Belton & Lee's Summit, MO Podiatrist For All Your Ankle & Foot Care Needs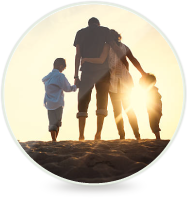 "I am a 43 year old mother, wife and sales rep. I needed to have my foot fixed permanently. Dr. Sugino is a wonderful doctor and she did an amazing job with my left foot. Her communication, surgical detail and overall work is unmatched. I have had several consults for bunion surgery in the last 5 years, and I stopped here because of Dr. Sugino. She does great work and made me feel comfortable about the surgery and overall process. My results were incredible. Highly recommend."   – Jamie S.
The Foot Doctors of Kansas City
Providing Expert Podiatry Care, Diagnosis, and Treatment Since 1986
At The Foot Doctors of Kansas City, we know how important feet and ankle comfort is for your overall wellness. We take your discomfort seriously and will do everything we can to get you the relief you need. In fact, if you are in pain, you should not have to wait.
So whether you're in need of foot pain relief, heel pain relief, ankle pain relief, arthritis foot care, bunion treatment, children's foot care, diabetic foot care, treatment for flat feet, treatment for hammertoes, treatment for heel spurs, treatment for ingrown toenails, treatment for a neuroma, treatment for a foot wart or foot surgery, congenital foot and ankle surgical correction, complex deformity correction, treatment of sports injuries or Charcot neuroarthropathy treatment, we are here for you!
When you visit The Foot Doctors of Kansas City, you benefit from the extensive experience of Dr. Robert Bondi, Dr. Laurel Bondi and Dr. Raquel Sugino who have helped over 70,000 patients with their foot conditions. Our desire is for you to feel happy and relieved when you walk out our door.
Come experience The Foot Doctors of Kansas City. See for yourself that we offer top-notch, patient-focused, effective podiatry care in Kansas City.
To your relief,

Welcome!
The Foot Doctors of KC heartily welcome foot and ankle reconstruction specialist,
Dr. Raquel Sugino
TOP 10 THINGS TO KNOW ABOUT CHOOSING A PODIATRIST
There are many items to consider when choosing your podiatrist. To help you make a more informed decision, we are providing you with top ten areas to evaluate. We hope you decide on The Foot Doctors of Kansas City. Our qualified and caring podiatrists would like to help you.

VIEW THE TOP 10 LIST HERE
We Offer the Newest Treatment Technologies
MLS Laser Therapy
Effectively Eases Chronic Pain
– Relieves Pain
– Improves Nerve Function
– Improves Blood Flow
– Speeds Healing
– Acts As Anti-inflammatory
– Generates Cell Growth
– Replaces Surgery
Swift Microwave Therapy
Removes Plantar Foot Warts
– Treats Virus Causing Warts
– No Down Time
– No Pain After Treatment
– No Activity Limits
– No Blisters Or Scarring
– Superior Results vs. Freezing
– Superior Results vs. Salicylic Acid
Ultra Sonic Treatment, TX1 Technology
For Tendon and Facia Pain
– Heals Damaged Tendons & Cell Tissue
– Quickens Pain Relief
– Avoids Conventional Surgery
– Speeds Recovery Time
– Quickens Return To Normal Activities
– Decreases Overall Cost Of Care